Entertainment
Batman and Robin
Catching up with the caped crusaders!
Drunks
Verbosity reviews Richard Lewis' new indie effort!
The Lost World
A review of the summer's first blockbuster!
Punk Scene
Show reviews with no dishware!
more entertainment...


John Romero
Verbosity's exclusive interview with the man who brought the world Wolfenstein-3D, DOOM, and Quake. Find out where he's been and where he's going with his newest project, Daikatana. [more...] Top Albums of the Decade
Come with Verbosity as we take a look at some of the most influential albums of the nineties! All the biggies are here, folks! [more...] Next Year's Blockbusters
A look at the movies to keep an eye on at the theater in the upcoming year. With tongue planted firmly in cheek, "Evil" Doug Smith gives you a rundown on the flicks to catch. If you thought Lost World was great, wait 'til you see Ewe-rassic Park. [more...] E-Wrestling
Scott B takes a look at a phenomenon that's sweeping cyberspace. Dive on in if you think you've got what it takes to win the belt! [more...] How to be a Hacker
Do you lack the skills to be a mondo-cool hacker? No problem! With Verbosity's guide to hacking, you'll at least look and act the part in no time! [more...]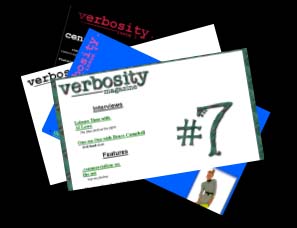 Introspects
Terms of Service
A webzine editor runs afoul of AOL's service conditions!
Summation
Auren looks at marketing through psychographics!
Neogenesis
Find out what's up with Verbosity's new format!
Columns
From This Side
of the Bar
Scott B reports from behind the bar of a Scottish pub!
The Further
Adventures of Jane
Jane plays Dear Abby and answers a question or two.
Industry Standards?
Examining the Pentium processor!
TRUE!
Daryl Cagle's comic strip, updated every Monday, Wednesday, and Friday!
Yackity Smackity
Check out some feedback (and sarcastic responses)!
Info
News
Submit
Feedback
Archive
Unauthorized reproduction of any portion of this website is strictly prohibited.
Last updated 6.26.97