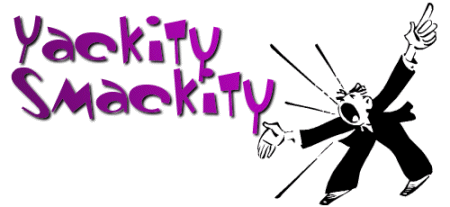 Security breach
   This message was sent to you by NaughtyRobot, an Internet spider that crawls into your server through a tiny hole in the World Wide Web.

   NaughtyRobot exploits a security bug in HTTP and has visited your host system to collect personal, private, and sensitive information.

   It has captured your Email and physical addresses, as well as your phone and credit card numbers. To protect yourself against the misuse of this information, do the following:

alert your server SysOp,
contact your local police,
disconnect your telephone, and
report your credit cards as lost.

Act at once. Remember: only YOU can prevent DATA fires.
Jess sez: Gee, maybe we should enter the witness protection program while we're at it. We're assuming that this is some sort of feedback to the Carolyn Meinel interview we ran last issue. If anyone has information leading to the capture of the guilty party, there's a Verbosity BountyTM out for him or her. In the meantime, we're all moving to Sri Lanka to hide out -- d'oh! Nevermind...
The plot thicks...
Verbosity,

   There is a response to your interview with Ken Williams that was allegedly from me. It is not. I have never met Ken, and I know little about Sierra On-Line (only the name is familiar). I have never worked in any way with Ken or Sierra.
Thanks,

Sam Devol
Midway Home Entertainment, Inc.
Jess sez: When we received the original e-mail, supposedly from Mr. Devol, we printed it in good faith. More recent revelations have proven the inflammatory message to have been an apparent forgery. We here at Verbosity apologize to Mr. Devol for any inconvenience.
Well, it's no Adam West, but...
Dear Ms. Morrissette:

   Thank you for your letter requesting an interview with Mrs. Clinton. I apologize for the delay in responding to your inquiry, but because of the unprecendented amount of mail we have received, I have been unable to answer as promptly as I would prefer.

   The many demands on the First Lady's official schedule allow us to accomodate only a limited number of the request received. Therefore, I regret that we're unable to comply with your request.

   Thank you again for your interest. Please contact our office if we can be of assistance to you in the future.
Sincerely,

Karen E. Finney
Deputy Press Secretary
  to the First Lady
Jess rants: Okay, this isn't funny. As far as I'm concerned, 'Jess' is clearly a masculine name. It's short for Jessee, not Jessica or Jessie or something like that. I mean, it's flattering to get snail mail from the White House and all, but they have access to the FBI's records! How much trouble would it have been to have placed a call across town to check my file and see if I am a man, woman, or nonclassified sentient being? Or, worse still, maybe my file says I'm a woman. This is disturbing me greatly.
Whoa...calm down!
Verbosity,

   What the hell is going on here?????? I didn't win the contest?!?!?!?! What type of travesty is this? I lost to a 16-year-old girl!?!?!?!

   Come on!!! I was shoe-in. I am beginning to think that this whole thing was rigged from the get-go. See if I ever get back to Verbosity. Fat, fat chance.

   I can't believe such sinful corruption exists on the campus of a Christian college. I guess that's what I get for being "holier-than-thou". Listen here, I am a Bible and Religion major and a great patron of Verbosity (at least I used to be). And what thanks do I get???? Snubbery!!!!

   Uhhh...I mean congrats to the girl.
Corey sez: Come on, Chris! Just because I'm only a Bible and Religion minor doesn't mean you can hold it over my head! As for the selection process, it was totally scientific. We got a mule and spread out the entries in a huge field. Whichever entry the mule defecated on, we chose as the winner. Congratulations, Natalie!
Do you want fries with that?
Seth,

   I want copies of the Mysterious Cities of Gold episodes. I loved that cartoon and I'd love to see them again. I used to watch it on Nickelodeon. Please help!
Seth sez: Oh, sure...they're on their way! Is there anything else I can get you while I'm at it? Maybe a few copies of David the Gnome? Don't worry; it's my treat!
Truly outrageous...
Verbosity,

   Jem and the Holograms ROCKED! I was 17 when I got my frist Jem doll. I loved Jem and the Holograms; they were kind of like a Josie and the Pussycats for the '80s. The music, the cartoon, the dolls, the clothes...

...and the clothes we wore in the 80's! I loved that cute early 80's Valley Girl look: flippy miniskirts, lace trimmed socks with spike heels, bow ties, headbands, costume jewelry! I loved the whole Valley Girl thing, fer shurr! The movie "Valley Girl" was wonderful, but I loved the clothes that the Valley Girls in the ultra-obscure movie "The Vals" wore!...

...the music, particularly the REALLY obscure stuff. Who can remember Limited Warranty, EBN-OZN, Kajagoogoo, the New Monkees, Baltimora, Peter Schilling, Pseudo Echo...? I can, and I'm proud of it! The stuff that was popular was hot, too! Corey Hart, Wham!, Duran Duran, a-ha, INXS, Men At Work, Mr. Mister,... these were some of my favorite groups of the '80s...

...STOP ME BEFORE I HAVE A TOTAL, LIKE, '80S RELAPSE!!!!
Jess sez: Just to clear up any confusion, there weren't exactly any "New Monkees," as such. Instead, it was Mickey Dolenz, Davy Jones, and Peter Tork, reunited, sans Mike Nesmith. They produced a wonderful album entitled Pool It, featuring singles like "Heart and Soul" and "Every Step of the Way."

   After looking over the results of the sneaky survey we slipped in with our infamous Box O'Stuff Contest, we discovered that most of the entrants' favorite article was Gee, Do You Remember the '80s. Now, as far as we're concerned, that article was one of the most embarrassing we've ever had the disgrace of running. We want to know what kind of articles you like to see in Verbosity. Do you prefer humor, straight stuff, interviews, our columns, editorials, or something totally different? Mail us and let us know...
---
[back to verbosity]