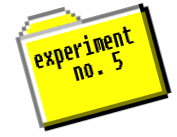 Here at verbosity, we're
always in the mood to
experiment. When
one gets down
to it, this entire magazine
has been an experiment
of sorts. However, this issue
is experimental to a new
degree. We're introducing some
new columns, working with
new layout concepts, and
generally trying to shake things
up a bit. If there's anything
we strive to avoid, it's
predictability.

We hope you get a kick
out of this issue;
feel free to contact us
with any comments you
have about it. Until then,
enjoy!


Unauthorized reproduction of any portion of this publication is strictly prohibited.
You are visitor # since December 14, 1996.