[PTt] musik review - Weezer, "Pinkerton" / Republica, "Republica"

Corey Welton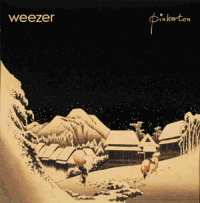 This month, I'm reviewing two new albums, one of which is a sophomore effort, the other a newcomer to the industry.

I'll start with the former, Weezer's latest release, "Pinkerton" (Geffen Records). Last year, Weezer hit it off big with their self-titled first release. The big hit was, of course, Buddy Holly, which was in heavy rotation on 'alternative' airwaves, and, thanks to the brilliance of Spike Jonze, MTV as well. It took so well that Microsoft included the video on its Windows 95 CD release.

This video, gave a quite-"wholesome" appearance to the band, one which very likely fueled sales of the album. Pinkerton, however, seems to be, musically and lyrically, a departure from this -- and they don't do a particularly great job in pulling it off. The first single off the album, El Scorcho, while perhaps a bit humorous at first, later becomes quite absurd, and a mere example of the rest of the album. In its full glory, it becomes obvious that the album has a definite lack of focus, with many of the songs sounding merely like (chemically induced?) jam sessions and brainstorming, none of which you'd expect to hear on an actual release -- a collection of B-sides would, perhaps, be more appropriate. Granted, with the Weezer fan base out there, it'll be sworn up and down that this album is the greatest thing since sliced bread, but this half-hearted effort is but a mere departure from a formula that worked, and doesn't do do much for me.




Next, we have the first release from the band Republica. Their self-titled release (RCA Records). With the a name like that, their promo material ("Vote Republica") falls in perfect sync with the upcoming November elections.

This album is decent, but like the elections, it's definitely a mixed bag of nuts. Their first release from the album, Ready to Go (Which is, at least, a cool-looking CD single), while a great track, is not indicative of the rest of the album. The album reverts back and forth, between a Garbage-esque motif and Euro-Dance/House music, which, at times made me a bit dizzy. Picture Me is an interesting addition to the album, a safari mix of bongos and pipes... intertwined with what's probably .wav-translated-MIDI or something.

In all, if you want to experiment, or if you want an electronic soundscape that's more than just a glorified Casio keyboard, I'll recommend the album. However, I'll leave this one up to the ravers, dance clubs, the DJs to decide its true virtue.


---
Visit the Geffen Weezer website.

Visit the Republica website.

[back to verbosity]