[PTt] musik review - Steve Vai, "Fire Garden"

Corey Welton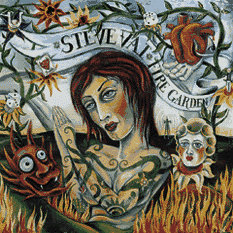 This month's review features music that's a blast from the past for a good number of people. Steve Vai, guitarist for a number of the 80s "hair metal" bands [Whitesnake, David Lee Roth], has been producing and perfecting his own sound, long since it was in vogue for guys to wear mascara.

In recent years, Vai has released other albums, "Alien Love Secrets", and before that, he put together a band and released "Sex and Religion". While the latter was certainly different than his other releases, the seven-string fiend has continued to produce music on the the cutting edge -- though perhaps on another tangent altogether -- throughout. "Fire Garden" is no exception, as Vai plows through the sound barrier once again with his weapon of choice, the Ibanez Jem.

Depending on how one looks at it, Vai's displayed prowess on Fire Garden can be either his greatest strength, or his greatest weakness. Very few would argue, after hearing Steve, that he is not a brilliant musician. Yet for anyone not accustomed to, or particularly familiar with Vai's style might think, "Eh.. more of the same...", as he or she listens to another 30+ minutes of blazing guitar solos and wah-wah. Yet one thing is for certain: Vai certainly knows how to please his fans. After the release of a somewhat disappointing release, Alien Love Secrets (which was excellent musically, but had an extremely short play time), Fire Garden plays up to its potential, with over 74 minutes of music. Divided into two "Phases", this effort starts with an instrumental section, and then follow up with added vocals and more guitar brilliance.

In all, if you like Vai, this is definitely another great CD. If you've never heard Steve play solo (catch him in concert), or want to recapture the youthfulness of the 80s -- while at the same time see what he has new to offer -- I'll recommend it... but just heed Vai's warning, and listen to it in parts.


---
Visit Steve Vai's website.



[back to verbosity]