[PTt] musik review - emmet swimming, "Arlington to Boston"

Corey Welton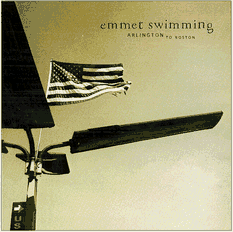 Nothing like seeing a local band make it big, let me tell ya.... Especially when you've just recently become a big fan.

I had heard of emmet for a couple of years, as they made their way through the Northern Virginia music scene, but I'd never heard them play. This changed, when they played at the Fairfax Fair [Fairfax, VA], with For Squirrels and They Might Be Giants. To tell you the truth, emmet was downright GREAT. I did the typical new-fan thing -- sign up on the mailing list, etc. Ok. So I'm a sellout. Funny.. that's one of their songs. Sellout.

Anyway, a few days ago, I got a postcard announcing the release of their new album, and a free show to celebrate. I didn't make it to the show, but I bought the album, and am extremely pleased with it. "Arlington to Boston" (Epic Records) is the story of their tours, I'm guessing. This album is CD-ROM enhanced, and the first tune, "Arlington", is a brilliant start. I recognize some of the No. Va. imagery so clearly (they all have a motto / be rich, dress poor / and it's the suburb of the week), and anyone who has lived in this area for any amount of time would agree. From there, the album flows smoothly, and hits perfectly with the seventh track, "8:45" (quarter to nine), an anthem of sorts, one song I can CLEARLY remember from when I saw them in concert. As previously mentioned, "Sellout" is included, and is a humourous tune about the music industry. The album ends with (what else?) "Boston", a good end to a great effort.

With the radio becoming crowded with "alternative" bands that hit instant-stardom, but are never to be heard from again, it's good to see this mellow-but-rocking band hit the big time. If your musical interests range anywhere between R.E.M. to Counting Crows, or Seven Mary Three to Barenaked Ladies, it's a great buy, and a great band....

...if you can catch them on tour up and down the east coast, DO IT.


---
Visit emmet swimming's homepage.

[back to verbosity]